ECHNO IS UltraBattery is developed as the battery most suitable to Start-Stop Car.
UltraBattery is fused the electrical capacitor performance into the lead acid battery so as to have better charge acceptance and longer life span performance than the conventional battery does.
What is Start-Stop Car?
Start-Stop Car can reduce engine load and exhibiting the fuel consumption by controlling how much the alternator generates while travelling and by making the engine shut off at idle when charge state on the battery is well.
What is the difference between the Charge Control Car and the Start-Stop Car about the battery's operating condition.
Charge Control Car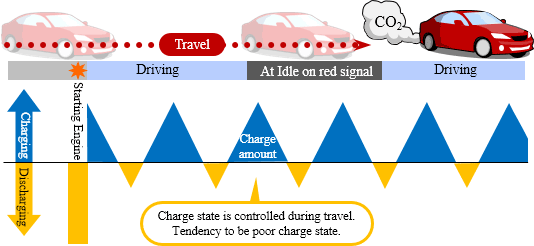 Start-Stop Car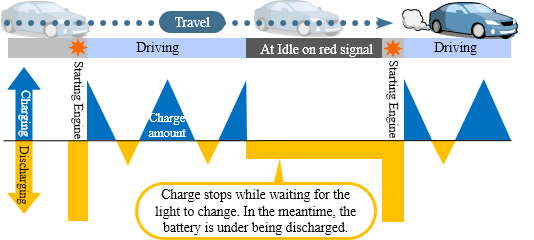 Good points of ECHNO IS UltraBattery
Lead-Acid Battery
Adopting lead as electrode, the device taking charge and discharge with chemical reaction.

Higher capacity
Stronger to large current discharging

Weak to fast charging
Deteriorate by charge and discharge
Electrical Capacitor
With no chemical reaction, the device taking charge and Discharge, absorbing and Desorbing electrons.

Stronger to fast charging
Less deteriorate by charging and discharging

Low capacity
Weak to large current discharging under low temperature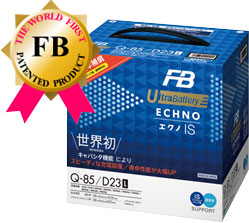 Higher Capacity
Stronger to large current discharging
Stronger to fast charging
Longer life span even under poor charge state!
What is ECHNO IS UltraBattery inside?
ECHNO IS UltraBattery has the electrical capacitor function by adopting the negative plate coating the carbon electrode.
Inside Structure of ECHNO IS UltraBattery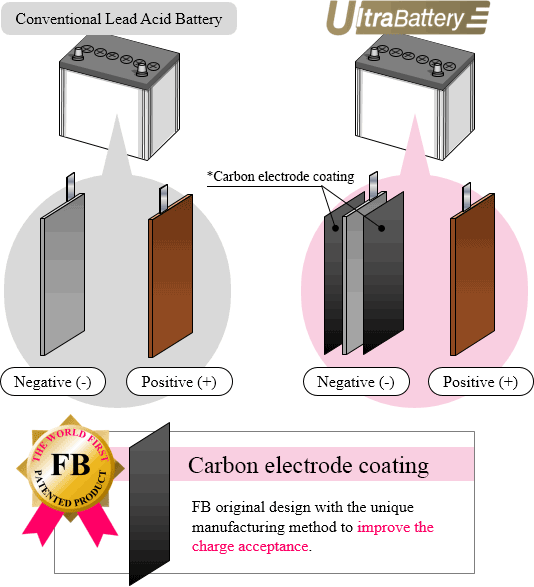 What the function of carbon electrode is like?
It enables the carbon electrode on the negative plate to pull in the electrons.
It achieved the speedy recovering charge and thereby longer life span.
Graphical image of the function of carbon electrode while charging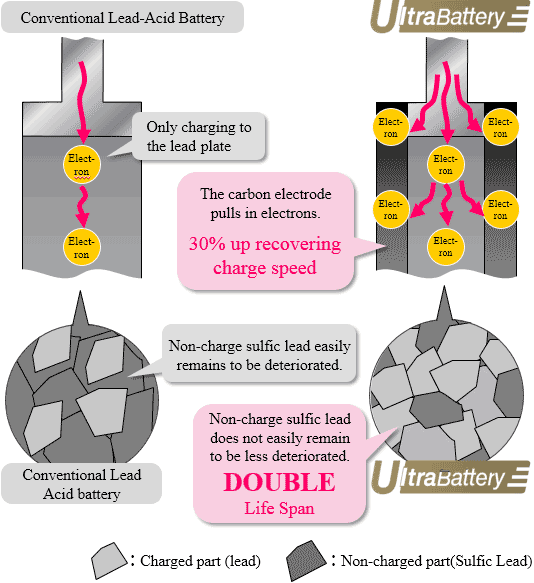 How does ECHNO IS UltraBattery perform?
ECHNO IS UltraBattery successfully achieved 30% speed-up for recovering charge and double long life span comparing to our conventional battery for Start-Stop Car.
Charge Acceptance Performance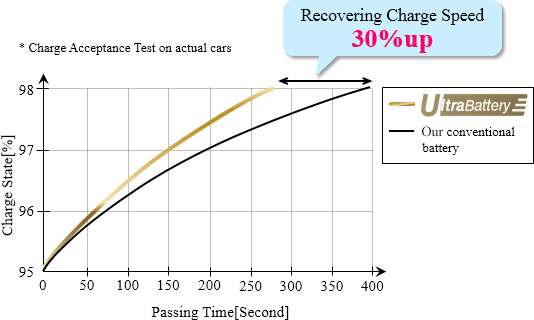 Life Span Performance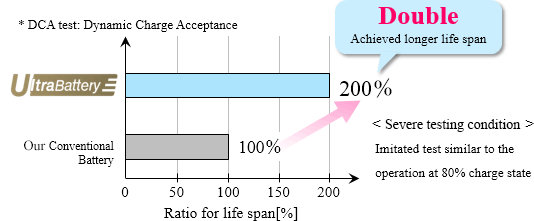 Specifications
Type
Voltage (V)
(note 1)
5 hour rated capacity (Ah)
Overall dimensions
(approx in mm)
Weight (kg)
(note 2)
L-type
R-type
Total height
Container Height
Width
Length
M-42/B20L
M-42R/B20R
12
33
227
200
128
196
10.7
N-55/B24L
N-55R/B24R
36
227
200
128
237
13.2
Q-85/D23L
Q-85R/D23R
54
225
200
172
231
17.2
S-95/D26L
S-95R/D26R
64
225
200
172
259
19.7
(note 1) Nominal voltageBack to Main Content
(note 2) Weight including electrolyte volume approx in kg) Back to Main Content
Cover configuration
Flat
Accessory
Indicator
Carrying Handle
Sticker for service commencement date.
Flame arrester vent plugs
Cap for terminal protection
Plate type
Calcium-Lead Alloy
Terminal position



What about Battery Type for Start-Stop Car?
Let's Learn about Specific Types.
If the conventional battery is installed to your Start-Stop Car, the life span of its battery may be shorter. Therefore, to classify the battery type as the conventional one or Start-Stop one, The Battery Association of Japan regulates the new battery type for Start-Stop Car by SBAS0101
New battery type for Start-Stop Car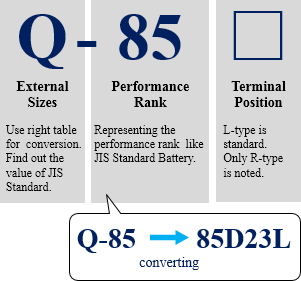 | External Size No. of Conventional Car | External Size No. of Start-Stop Car |
| --- | --- |
| B17 | J |
| B19 | K |
| B20 | M |
| B24 | N |
| D20 | P |
| D23 | Q |
| D26 | S |
| D31 | T |
| E41 | U |
| F51 | V |
| G51 | W |
| H52 | X |